Gift Baskets
What's Poppin' customizes your gift basket to your needs. You can pick from a wide range of fudge and candied popcorn flavors, or simply tell us to make a basket with the more popular flavors! Your recipients will be so amazed at their gift that will make a lasting impression on them. Here is a listing of some of the gift baskets we offer. Again, if you can imagine it, we probably can make it.
We also offer to put your items in our gift baskets, like if you have a promotional item, coffee mug, pen, etc.
Here are our more popular gift baskets...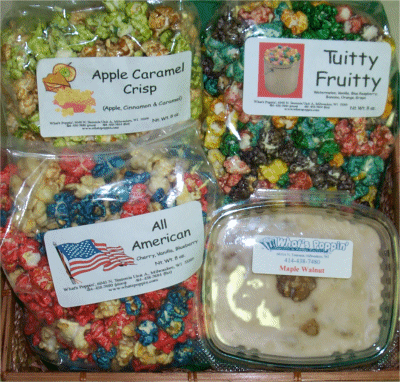 2 popcorn and 1 fudge - $17.00 each
3 popcorn and 1 fudge - $20.00 each
4 popcorn and 2 fudge - $27.00 each
2 popcorn and 4 fudge - $34.00 each
8 popcorn and 4 fudge - $55.00 each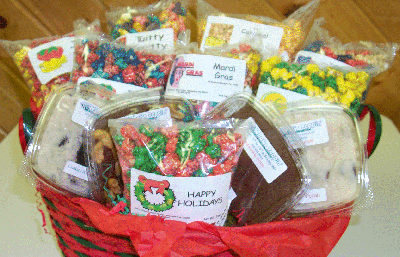 4 popcorn $17.00 each
6 popcorn $24.00 each
8 popcorn $28.00 each